Heute am 3.03 geben Satuki und Kaya ein Konzert in Hamburg :D
Um 21:00.Aber leider werde ich nicht hingehen :/
Ich will ja auch schon zu LM.C und SCREW.Bei LM.C habe ich die Tickets noch nicht bestellt ^^'
Und ACHTUNG: Wer noch SCREW Tickets für Hamburg will,sollte sich langsam mal beeilen.
Die gehen bei verschiedenen Anbietern (ich hab's vom Me-Shop) ziemlich schnell weg.
Während bei München usw noch relativ viele Karten zum Verkauf stehen.
My favorite Song by Satsuki: YOU
Satsuki hat so eine wunderschöne Stimme...so klar.
Und wie er hier in diesem PV aussieht *
*
Alles in einem total Engelhaft!
Satsuki the Angel <3 wirklich Zucker.Das einzige was hier unerwartet auffällt sind seine Tattos ;D
Ich denke mal die stammen noch aus der Zeit als er Vocalist von RENTRER EN SOI war.
Dieser Song ist an Jasmine You gewidmet und auch in meiner Playlist vorzufinden.
BLOOD erwachen aus ihre Pause. =D
Sie pausierten seit 2009 und machten in dem Zeitraum eine Abschiedstour bei der sie von DJ SiSeN
begleitet wurden.Zwei Konzerte in Deutschland sind geplant HAMBURG und KÖLN im April!
Komplett neues Line-up.Und die Tickets sind beim Me-Shop total günstig zu haben.
Aufgerundet nur 23€ (!!!).
Tracklist von meiner Playlist:
1.SCREW - DUALITY
2.Alice Nine - Heart of Gold
3.Acid Black Cherry - Jigsaw
4.Angelo - Hikari no kioku
5.Angelo - Feather
6.DuelJewel - Vamp Ash
7.Dir en Grey - Yokan
8.Girugamesh - Crying Rain
9.heidi. - Loop
10.Juka - Fall of Leaves
11.LM.C - The Love Song
12.LM.C - Punky Heart
13.Lc5 - Loveless
14.Lycaon - Plug into the Soket
15.Lycaon - Aventure
16.MoNoLith - Fairytale
17.Phantasmagoria - Gensoukyoku Eternal Silence
18.SuG - Love Scream Party
19.SCREW - Raging Blood
20.Sadie - Ice Romancer
21.Saruin - DEATH BALLET
22.Satsuki - YOU
23.the GazettE - Filth in the Beauty
24.GOLDEN BOMBER - Mati kimi ni Bango
25.VelBet - Tokyo
Ha,nochmal was zu GOLDEN BOMBER xD
Die sind wirklkich verrückt die Jungs <3
Und die Reihenfolge der Songs hat jetzt nichts damit zu tun wen ich am liebsten mag.
Zum Beispiel SCREW habe ich für den Anfang gewählt,weil ich so ein schnelles Lied wie DUALITY perfekt für das 'Blog Opening' finde. (Die Playlist startet ja automatisch)
Mal überlegen,bestimmt kommen irgendwann paar neue Songs dazu ;)
Mal ein paar der Artists:
GOLDEN BOMBER:
Das Cover von 'Rockstar' ist doch voll süß iwie :3
SCREW:
<3 best!!!
Alice Nine:
2012 neues Album ''9'' (kam laut Shou's Blog schon in Japan heraus :) Hoffentlcih bald auch bei uns)
Acid Black Cherry:
Yasu *-* da brauch ich schon nix mehr sagen <3
Angelo: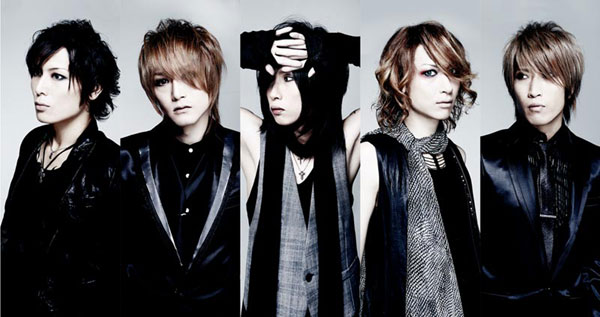 Awesome Band!!!Kirito's Gänsehautfaktor Stimme und auch die 4 Jungs an Gitarren,Bass und Drums - Perfect
DuelJewel:
:3 Nach all den Jahren immer noch voll hammer *-* love them!
Ps: ich wollte auch Versaille mit Serenade hochladen aber immer gerade DIESER Song funktioniert nicht -.-!
Und meine Labels beziehen sich diesmal aus Gesetzlichen Gründen nicht auf alle genannten Artists.
Und nochmal so zum Abschluss ein Pic von MoNoLith *lol*
Einer meiner absoluten Favs und die zwei Vocals :heart: